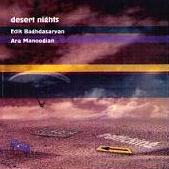 The second edition of Desert Nights is now available from
Abril Book store
in Glendale, CA.
Abril does not have a link on their website yet for the book (it should be in a couple of weeks), but if you get in touch with Harout Yeretzian, the owner via e-mail at: harout@abrilbooks.com, he will arrange to get you a copy. Of course if you live in or near Glendale, you can stop in and buy a copy over the counter.
The second edition is three times thicker than the first edition (200+ pages), covering all the articles that HETQ as published in relation to trafficking and a few additional items. It is in English and Armenian.
We have also published on DVD our documentary with English subtitles. Included on the same disk is a broadcasted live interview with Edik of
HETQ.am
and the director of the UN's Armenian anti-human trafficking department, who later on turned out to NOT be working to prevent trafficking, but was in fact a person who was part of the trafficking ring and had somehow infiltrated the UN. The guy from the UN once in a meeting said in response to my saying that we saw girls as young as 16, "…and they sure know how to service men."
Anyway, for those of you interested in the book and DVD, please contact Harout Yeretzian and order yourself a copy.