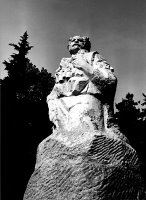 June 12th marked the 13th anniversary of the day my father-in-law, Saribek Martirosian and Monte Melkonian were killed in battle. In addition to them, a 17 year-old solider named Verj, who was from the village of Bertashen died about 500 meter from where Monte was killed as he and his unit were coming to aid Monte and company, who were under attack. Verj's unit encountered the Azeris who were retreating for Aghdam after killing Monte.
At the government square in Martuni many people gathered. Our kavor (God Father) Alec Yenikomshian, who was one of Monte's close friends spoke about how Monte didn't die 13 years ago, but lives in all of us.
This is the day we remember Saribek, Monte, Verj and all those who were martyred in the defense of our country.