Inside Out: Judge's 6 vehicles = $61,000. Judge's apartment = $100,000. Judge's annual salary = $7,704. . . Building dispute opens door on potential profits of jurisprudence
By Vahan Ishkhanyan
ArmeniaNow reporter
A dispute over a door has opened a window into the finances of a Yerevan judge, revealing a mass of wealth far greater than his moderate salary provided by the Ministry of Justice.
The judge (shown in an archive photo) gets hot under the collar when asked about his acquisitions
The judge, whose salary is about $642 a month, owns six cars (including those given to his sons) worth about $61,000, a house in the resort town of Tsaghkadzor, and a four room Yerevan apartment into which he invested about $100,000 in 2002. He later purchased two other apartments.
In November, Judge Suren Kostanyan, superior of the Court of First Instance of the Erebuni Community, helped pay for installation of a coded door at the entryway to the building where he lives, at 22 Isahakyan Street.
Some residents welcomed the security door, saying that it stops unwanted vagrants from using their entry as a hostel or toilet.
But the door also effectively shuts out potential customers from the first-floor currency exchange office and a music shop run by brothers Vahan and Arman Karimyan.
To enter the building, visitors must ring residents and identify themselves by intercom. Residents can enter using a key. The Karimyans argue that the security system shuts out walk-in customers, and cuts off the brothers' livelihood.
"My kiosk of records operated since 1997, it is my daily bread, but in fact they seized it from me," says Vahan Karimyan.
Karimyan says he has not been given a key and that, were he to lease the space, he could make $200 a month.
As it is, he can enter the building only through the entry to another business, VivaCell (the space is owned by the Karimyans, who lease it to VivaCell) whose offices has an outside door.
"They installed the door, and they don't give me a key," says Vahan.
Four co-owners of Karimyan's unit appealed to the Ministry of Justice for disciplinary proceedings to be instituted against the judge and his powers of a judge to be terminated.
Judge Kostanyan flies into fury when he hears about the door problem.
"If not one of the complainants has resided there since the time I moved in, how can I be an obstacle to them," says Kostanyan. "The entrance is for general use and it is the property of all residents. Let it be theirs, but do not let their using it create problems for me."
Kostanyan says the Karimyan's music recording business (making and selling customized CDs or cassettes) became a nuisance for him and other residents.
"It was an unbearable situation," the judge says. "From 8 a.m., with loud speakers on, he was recording until 11 p.m. Then, homeless people would get inside. The entrance became a toilet, they did everything there. It was impossible to live."
Kostanyan says there were times when his wife was afraid to enter the building because of street dogs that gathered in the entrance.
The judge says the door was legally installed with the approval of the regional council for the Kentron district.
Resident Vilen Atyan helped pay for the door to be installed and says it has made the building a more livable space.
"Embattled" Judge: The new entrance door opens the coffers of Judge Suren Kostanyan. Aren't 25 years of work for jurisprudence enough for an easy life? Share your thoughts in ArmeniaNow's forums.
"The only bad thing is that the guys lost their business," Atyan says.
The judge says the Karimyans could install an intercom and let it operate by the same method as the residential units, but that he opposes the idea of a common entry for business and residential use.
"Let them sue, me, the council, the other residents," Kostanyan says.
While, according to law judges are exempt from criminal and administrative prosecution, they can be sued in civil cases. For now, Vahan Karimyan has filed a 40-page complaint with the Ministry of Justice.
In the course of preparing the complaint, an attorney for Karimyan compiled information that raises questions about Judge Kostanyan's means of livelihood. The judge's financial status is fuel to the flame for those who see Armenia's legal system as harboring opportunists who bend the law for profit and are themselves above the law.
ArmeniaNow asked the judge to account for how he could afford such expensive property and vehicles on his salary.
Indignant, Kostanyan angrily replied:
"I am a judge, why shouldn't I have the right to have a Mercedes? (The judge has one Mercedes for work and another – a 600SL for private use.) My son is a doctor, shouldn't he have a car? My other son is Armenia's representative to the European court, shouldn't he have a car?"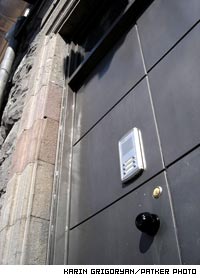 The Ministry of Justice replied to Karimyan's complaint by saying that the matter should be addressed through proper legal channels.
One caveat, however, is that Minister of Justice David Harutyunyan, the republic's final arbiter of judgment, is a close friend of Kostanyan's. Harutyunyan is in fact the godfather of Kostanyan's sons and one of Kostanyan's sons is an advisor to the Minister.
As details of the door complaint and of Kostanyan's finances have emerged, the judge maintains that there is no conflict of interest either in his professional or personal life.
"David Harutyunyan was the kavor (best man) at my sons' wedding parties," Kotanyan says. "A man has children, why shouldn't these children have a kavor, he raised his child, why should his child remain without a kavor? Do you have a kavor, do your children have? If you come tomorrow and say: be a kavor to my children, won't I? David Harutyunyan was a teacher when I already worked in the judicial system (Kostanyan has been in the judicial system since 1981, he was a Supreme Court judge, and later chairman of the Mashtots District Court)."
Opponents of Judge Kostanyan have turned the door debate into part of an interdepartmental squabble. ArmeniaNow has learned that relations between the judge and the Erebuni prosecutor are so strained that they don't even answer each other's messages.
Relations between the Prosecutor General and the Justice Minister are also known to be strained.
Vahan Karimyan and his lawyer say they have evidence of other Kostanyan property and that he has total real estate holdings worth more than a million dollars. Such wealth, however, is not something extraordinary for a judge in Armenia.